FOR SALE: Turn of the Century Herschede clock
by Jeff
(Carnegie, PA)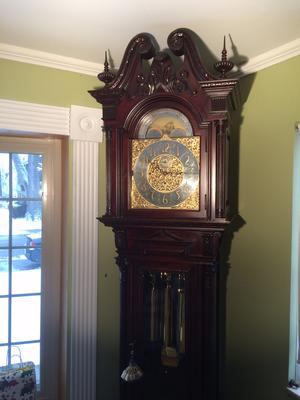 FOR SALE: Turn of the Century Herschede clock
Selling for a friend who moved out of state. Here's what I know. just a hair under 8 ft. 5 tubes marked Herschede, Westminster chimes on the quarter.


3 weights, I think 8-day.
Works marked "Germany" on back plate.
Name of company on face is JC Grogan, Pittsburg which dates it prior to 1911.
"436" on back of case. Gorgeous, well-kept, non-smoking home.
Serviced recently.
You will have to pick it up in Pittsburgh.
Asking price is $30,000.
Jeff