Colonial Grandfather Clocks with carvings
Who makes Colonial Grandfather Clocks
When people came to America from all over the world, it was with the intention of creating a beautiful home for themselves and their families.

These people came from all walks of life, from unskilled laborers to fine craftsmen, each of whom had something important to contribute to the American colonies.

Some of these craftsmen created a style of handcrafted clock or tall case clock that has come to be known as Colonial MFG Grandfather Clocks.

Colonial MFG grandfather clocks are a beautiful and quite expensive piece of our past.

The carving on these collectible clocks tends to be very intricate and detailed, and can add quite a bit of character to a room in your home.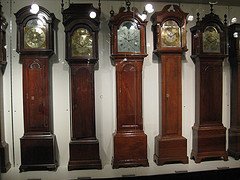 They often have, as part of their mechanics, a dial that rotates from sunshine to moonlight to show you whether it is AM or PM. This style is also a wonderfully classy and classic design.

Cases on antique colonial of Zeeland grandfather clocks can be open or closed,

meaning that they may have a glass front that allows you to see the pendulum and weights, or it might be composed of a closed box that hides these mechanisms away from your eyes. Both are quite beautiful in different ways.

There are various manufacturers of antique grandfather clocks, including the Colonial Manufacturing Company, Benjamin Garrett of Goshen, the American Clock Company, and George Jones among others.

You may be able to get an antique colonial clock that is two hundred years old

or even a little more depending on where you shop and the price you are willing to pay for a beautiful piece of history.



Colonial Grandfather Clocks Forum
Do you have a story or question related to Colonial clocks? Share it!
You are invited to join.
You don't need to register or to share personal information.
Share your experience with other visitors of this website and help them make a better choice.

Don't forget to add a picture to show your clock.


What Other Visitors Have Said
Click below to see contributions from other visitors to this page...

Repair that clock, its well worth it!
Find the one that you like
The decorative Curio Grandfather Clock
Handcrafted German grandfather clocks
Find the missing part
Hands that tell the time
What a beautifull Face
Grandfather clocks through the centuries
American Antique Grandfather clocks
Howard Miller Grandfather clock
You might have come her by typing "colonial grandfather clock" in google.
---
Return Home from Colonial Grandfather Clocks