Herschede Tall Clock with Westminster and Wittington Chimes & 9 pipes
by Marie
(Nashville, Tennessee)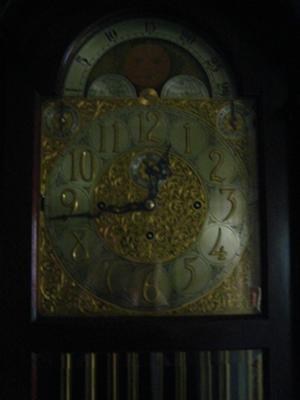 Herschede Tall Clock Face
Hello,


I am thinking about selling my Herschede Tall Clock. It runs great, had the works professionally overhauled two years ago.
This is an old one, I had the number, but can not find it, so my clock man is coming out to open the pack so I can take a picture of it, is on a plate in the back of the works.
The case is Mahogany, I believe, and is in Very Good condition, with the usual scratches and bumps for it's long life.
The lock is missing, but the hole for it is in fine condition and could receive another lock, I just never pursued that.
The face seems to look like one I found called Type A, but is also somewhat different. I believe it is gold plated filagree brass.
There is a moon phase.
There are nine pipes (is that the correct term?)
Am open to any advice on how to find a qualified buyer.
I have an idea as to value, but I am also open to comments on this.
I wlll post the number and year made next week after my clock man helps me to get a picture of the number.
Thanks,
Marie