Need info on the Clock Makers and time period for my Grandfather Clock
by Jim
(Tampa Florida USA)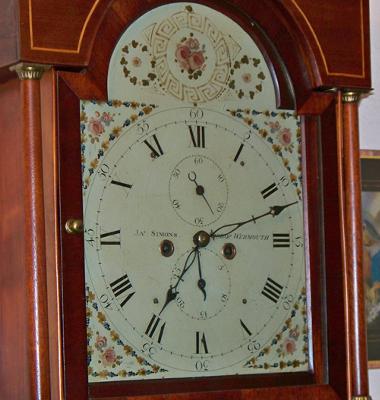 A close-up of the face
Greetings all.


I recently purchased an old Grandfather clock, and I am having difficulties ID'ing where it was made, or from what time period it is from.
The clock appears to be made of either Mahogany, or mahogany veneer.
It also has some inlaid mahogany as well.
The clock-works are brass, and has a painted dial. On the dial are 4 names. The first name is "JAs" (I believe that it is the abbreviation for James) followed by "Simons" on the left side of the dial, and the names "Bishop" and "Wermouth" on the right side of the dial.
By looking at the dial, I believe the clock was made somewhere between 1770 to about 1800, but this is just a guess. I also believe that it was made in England, but again, this is just a guess. Any and all info you can provide would be greatly appreciated!
I have included a couple of photos. One of the dial, and the other of the entire case.
Thank you!
Jim