Lepper Clock Berlin Oak
All the clocks produced at Lepper, are made to your specifications.
If you are interested in this clock and want to order or have a question, then fill in the Form below and Lepper will certainly get back to you with an answer to your request or order.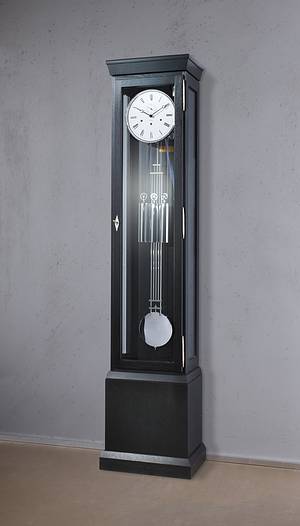 Very noble, exclusive clock manufactured in solid oak.



Move mouse over picture to enlarge
Color: Black Laquered.

Exclusive clock with Black Forest movement with Westminster chime by Kieninger.

Cable-driven clock movements(one of the best by Kieninger).

Very high quality second compensation pendulum with precision Pendulum and weights polished chrome.

Dial silver-colored with chrome rim.

Side and front glasses have beveled edges.



Dimensions:

• Height 203 cm

• Width 47 cm

• Depth 30 cm (11.8 inch)


---
<< Return to Lepper clocks from Berlin Oak


See the Lepper Frankfurt Clock in Walnut
See the Lepper Hamburg Clock in Oak
See the Lepper Mannheim Clock in Cherry
See the Lepper Buren Clock in Maple
See the Lepper Heilbronn Clock in Cherry
See the Lepper Munster Clock in Oak
See the Lepper Cologne Clock in Oak

Go to Lepper Grandfather Clocks.